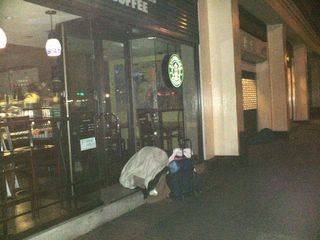 Just another rough sleeper, among the thousands in this country that lay in shop doorways. I went out late at night and vitually as soon as I came out of charing cross underground station. There where six rough sleepers in the row. Asleep. Some of them you probably see most nights with cardbord under their arms walking down the street.
They use cardboerd to lay on because they have learned that it helps keep out the cold from the stone pavements and if they have several layers it doesn't feel so hard. So a goodnights sleep ( if you can call it that ) can be had.
Maybe you're a shop manager and some morning you feel sorry you have to tell them to move because you have a to open the shop. Is this what you want to see? This goverment say they have helped the homeless in many ways. If that is so why are their still so many homeless? I would love to hear what you have to say.